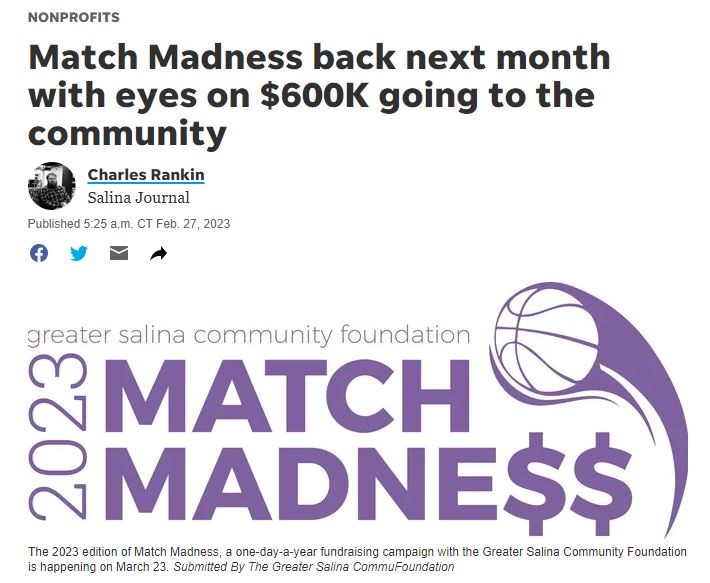 NONPROFITS
Match Madness back next month with eyes on $600K going to the community
Salina Journal
One of, if not the largest, giving campaigns is back in Salina next month, as the Greater Salina Community Foundation (GSCF) looks to raise $600,000 for community charities.
In its 12th year, the 2023 edition of Match Madness will take place on Thursday, March 23, in person at the Salina Fieldhouse and online at www.matchmadnessgscf.org.
Jessica Martin, the president and executive director for GSCF, said this year there is $300,000 available from "generous and anonymous" private donors for matching funds, all of which will be given if this year's goal is met.
"I would be thrilled if we got at least $600,000," Martin said.
According to Martin, last year's campaign raised just over $547,000, so GSCF believes this year's goal is well within reach.
"Minus (the COVID year) we've (increased the amount raised) each year," Martin said.
How many charities are there to donate to?
This year, Match Madness has over 90 separate nonprofit organizations participating, which represents a variety of services and charities throughout the community.
"We really do have a full menu," Martin said. "You can almost call it a one-stop shop (for donating). We have social services, arts, youth programs, some churches, animals, recreation, veterans, health and more."
While GSCF does offer ways for people to donate to these organizations and others, Match Madness is the only event that raises up all of the organizations.
"This is really impacting the entire (community)," Martin said.
An opportunity for people from all walks of life to give back
One aspect of Match Madness that Martin and others at GSCF like is that it offers anyone and everyone the chance to support the community they live in.
"We'll have over 60 (of the) nonprofits with booths (at the Fieldhouse)," said Annika Wilson, marketing director for GSCF. "We encourage people to go talk to the booths and then come and donate."
Having these organizations on-site lets people see and interact with them, and get an idea of who and what it is they are actually donating to. GSCF is also offering prizes to people who visit at least five different booths, to encourage them to look at charities and organizations they might not be familiar with.
This year, every fifth-grade student in Salina Public Schools USD 305, will be visiting five booths and choosing one to donate.
"Another donor has donated $10 to every kid," Wilson said.
The foundation is providing bussing for the students, who will come in waves from 8:30 a.m. to 2:30 p.m. to the Fieldhouse.
"Our board has been talking a lot about how we get that next generation really thinking about giving back to the community at an early age," Martin said.
Free throw contest and food trucks back again
One of the most popular, and more visible aspects of the event is the Bill Grevas Memorial Free Throw Contest which is sponsored by the Salina Regional Health Foundation.
Each participating nonprofit will have the opportunity to try and make free throws for a chance to earn more money.
"Cash (Hollistah) is going to emcee it this year and provide music," Martin said. "It adds to (the event) to have somebody that is community-minded and people know and relate to."
The free throws lead up to a final event happening between 5 p.m. and 5:30 p.m. with the BE Wealth Half Court Shot of Charity, where the winning nonprofit will take home an additional $1,000.
Also, from 11 a.m. to 5 p.m. local food trucks will be in the parking lot at the Fieldhouse for people to purchase lunch or dinner while they come to donate inside.
Multiple ways to donate throughout the day
Donations for Match Madness can be made in person on from 7 a.m. to 7 p.m. on March 23 at the Salina Fieldhouse, 140 N. Fifth St. In addition to the donation station, nonprofit booths, food trucks and the free throw and half court contests, free snacks will be available throughout the day.
If people can't make it to donate in person, they can also donate from midnight to 11:59 p.m. that day online at www.matchmadnessgscf.org.
Cash and check donations, along with a completed donation form, which can also be found on the website, can also mailed to the Foundation at P.O. Box 2876, Salina, KS 67402-2876. To donate through mail and have the donation count toward the event, the mail must be postmarked March 23, 2023.