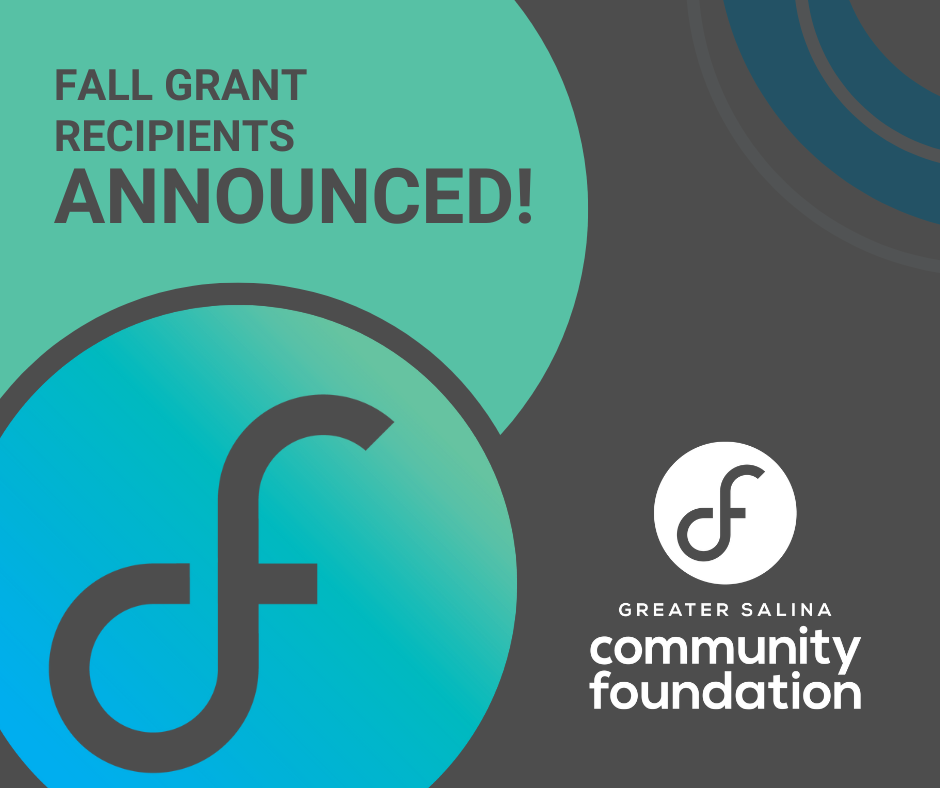 Community foundation awards over $70,000 in community grants
SALINA, Kan.— The Greater Salina Community Foundation recently awarded over $70,000 to 13 charitable projects and organizations in Saline County. The following organizations received funding:
Ashby House, $10,000 to be used to create an ADA accessible bathroom for the 1st floor of the new emergency shelter.
Salina Emergency Aid Food Bank, $10,000 to spend on food and hygiene, including but not limited to frozen meat products, bean, rice, canned tuna, canned chicken, toilet paper and dish soap.
USD 305, $1,679.97 to purchase leveled learning materials for Schilling Elementary families with children who are one or more grade levels behind in math and/or reading.
DVACK, $3,229 to perform the water penetration testing to maintain safe spaces.
Salina Education Foundation, $5,000 to support 25-$200 Sudden Opportunity Mini Grant projects.
USD 305, $7,148 to purchase equipment to enrich their existing robotics program.
OCCK, $6,400 to purchase 3,200 student rides at $2.00 each for after-school programs.
New Heights Therapeutic Riding Inc., $5,670 to cover the scholarships for participants.
USD 306 Southeast of Saline, $2,362.74 to pay for student curriculum, admission to AmeriTown, and transportation needs.
USD 306 Southeast of Saline, $2,000 to support Parents as Teachers Saline and Ottawa County family events for the purchase of community programs, admissions tickets, and community partner's fee.
USD 306 Southeast of Saline, $4,000 to help with updating materials in their nonfiction and biographies sections of the secondary library, book club materials, event materials, such as prizes, supplies, etc.
Bethany College, $3,000 to go towards musician stipends for rehearsals and a performance.
Big Brothers Big Sisters of Salina, $10,000 to purchase new laptops for pre-match/child safety training, STEM activities, games, learning system, and STEM room furniture.
This round of grants was made possible by five funds at the community foundation: the Dane G. Hansen Community Grant Fund, which supports projects and programs that improve the community's quality of life; the Kansas Health Foundation Fund, which supports the public health of Saline County; the Fund for Greater Salina which supports funds used for a variety of charitable causes that positively impact the community; the Fund for Early Childhood Care, Education and Development, which furthers the care, education, development, health, safety and human service needs of children ages 0-6 to better prepare them for kindergarten; and the L.P. "Pat" Mullen Fund, which supports hands-on learning opportunities for youth in the areas of arts and humanities and science, technology and invention.
Applications for the foundation's next community grant cycle are due by 11:59 p.m. on Saturday, October 15, 2022. Detailed application and fund criteria are available at www.gscf.org/about-grants.