About the Fund
In the early 1900's, baseball greats Babe Ruth, Lou Gehrig and others established an organization called the Knot Hole Gang. Its purpose was to help kids who could not afford tickets watch major league baseball from the stands – rather than a knot hole in the fence! The Youth Baseball Fund operates in much the same way – offering an opportunity to youngsters who want to enjoy baseball but are limited by a lack of funds.
The Youth Baseball Fund was established in 2000 by Larry Britegam of Salina. Mr. Britegam was a youth baseball coach for 30 years, and has a true love of the game. As a coach, he saw many families who struggled with the financial demands of organized sports. Early gifts to the baseball fund came from memorials from family and friends of former coaches Lowell Letourneau and Larry Caldwell. Additional memorial gifts have been received in memory of Jack Britegam, John Moshier, Harold Frazier and Ben Breault, all men who loved the game.
Many generous annual donors to the fund have resulted in an endowment that now will generate grants to support youth baseball every year. As the fund continues to grow, more grant dollars will be available.
What do the funds support?
Grants are reserved for individual players who play in a local league in Saline County, KS and who might otherwise not be able to participate in baseball due to limited financial resources.
Grants may be made to support, but are not limited to:
registration fees
tournament fees
uniforms
equipment
clinics
Who's eligible to apply?
Players that have limited financial resources and qualify for free or reduced lunches or extenuating circumstances.
A parent or guardian must apply on behalf of the child
All grant checks are made payable to the coach on behalf of the child
We are currently not accepting applications for teams at this time. 
Grants are distributed on a first come-first served basis. 
Larry Britegam: Salina Youth Baseball Fund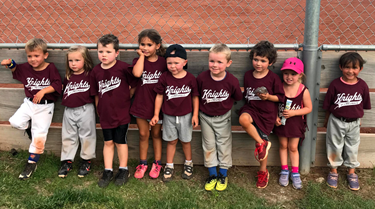 The Youth Baseball Fund was established in 2000 by longtime youth baseball coach Larry Britegam of Salina.

"This fund truly has had an impact on the kids that love baseball and need some financial help to participate," said local baseball coach Jason Wells.