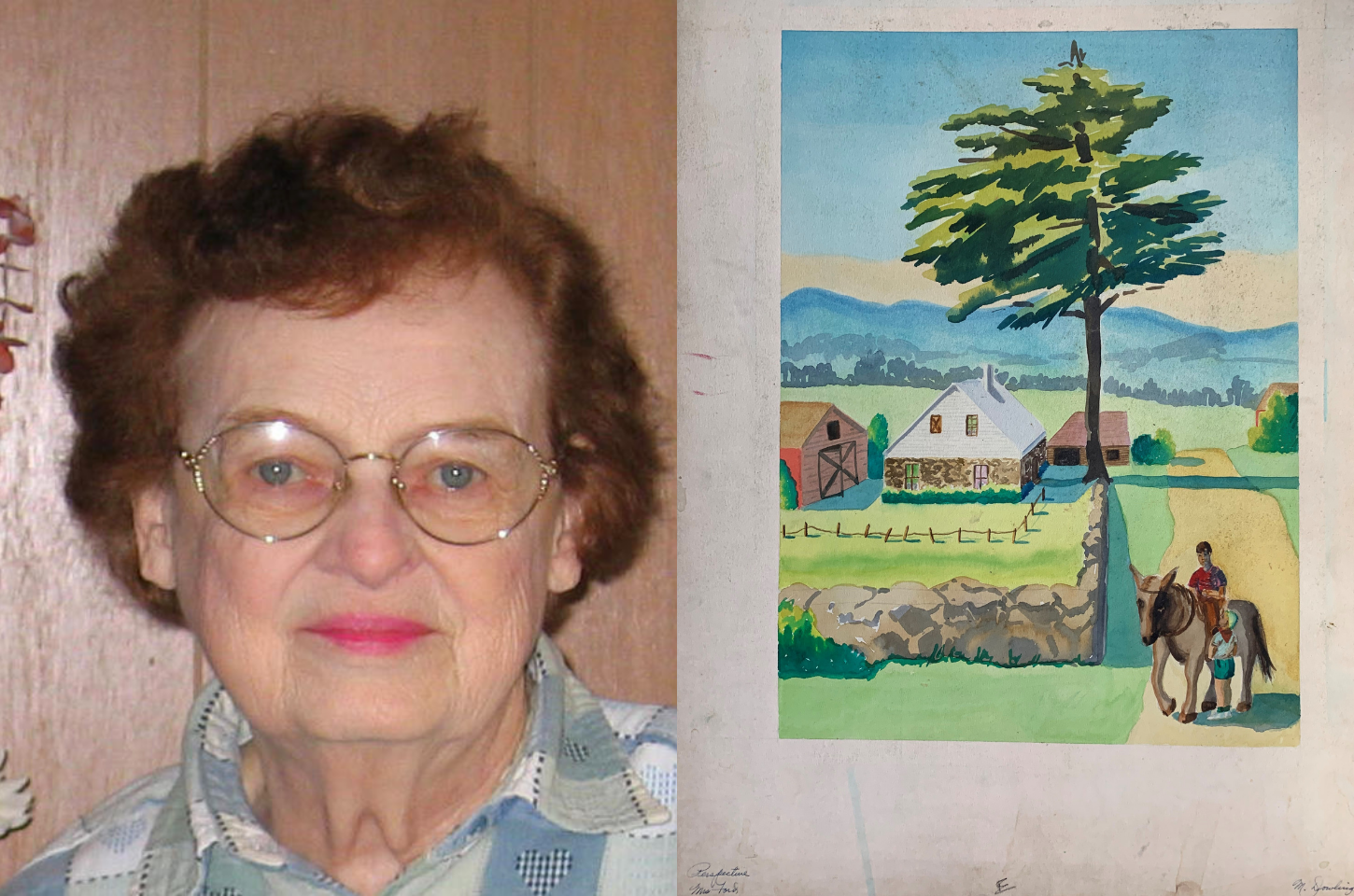 Marcella Dowling Oakes loved to paint, especially Kansas landscapes. A talented watercolor artist, she valued realism and drawing skills. Her son Dennis Oakes said she was very opinionated about this and had a disdain for abstract art, or as she would say "paint thrown from a bucket." During her lifetime she sold over 900 paintings, however, it was her family and raising three boys that meant the world to her.
Marcella was born and raised in Salina, graduating from Sacred Heart High School in 1939 before moving to Chicago in 1942 to study at the Art Institute of Chicago. While in school she corresponded overseas with a young military man from Chicago serving in World War II named William Robert Oakes. When the war was over, the two hit it off in person and were married for 30 years.
After her husband passed away, Marcella moved back to Salina to be near her family. She worked as a bookkeeper for Ballou Construction, while painting on the side. She displayed and sold her artwork throughout the region, including a couple of Smoky Hill River Festival shows.
Her son Dennis remembers taking Marcella and her sister Anna Eitel (also an artist), on country drives around Salina so they could gather "material" for their paintings. Dennis said, "I'd be driving down some godforsaken road that looked like it was going to end any minute, and they would yell, 'Stop, Stop!' and then they'd jump out, take the shot and then paint it when they got home."
Creating a Legacy
When Marcella passed away in 2007, her son Dennis wanted to do something to always remember his mother. With the money from his inheritance, Dennis and his wife, Martha, decided to establish a scholarship fund in her name to benefit Saline County students with a talent in drawing and who wanted to pursue a degree in an art field.
"Salina was her home, and I wanted her name to be remembered. For however long the Greater Salina Community Foundation exists, her name will be remembered," said Dennis. "She was always doing something for someone else, and this was something we could do for her."
Constantly worrying about her boys, Dennis joked that one of them was always "in the box," or hot seat. She remained this way up until the day she died, saying one last time, "Now you boys be good."
Providing Opportunities
Dennis was also inspired to use this fund to provide opportunities for students who may not have the financial means to further their education. Growing up on the south side of Chicago, his parents did not have the money to send him or his brothers to school. If it were not for the two small scholarships he received for tuition and bus fare to the University of Illinois at Chicago, he would not have gone.
"Those two scholarships, although they were small, gave me the motivation to go ahead and go. Maybe there are other kids in the same boat, and this scholarship would give them a similar head start," said Dennis.
Since establishing the fund, Dennis and Martha have been able to see the impact firsthand by serving on the selection committee and meeting the recipients. In fact, last year's 2020 recipient, Madeline Paradis
will be attending Columbia College Chicago for graphic design, just half a mile from the Art Institute of Chicago where Marcella started her career, bringing this full circle.