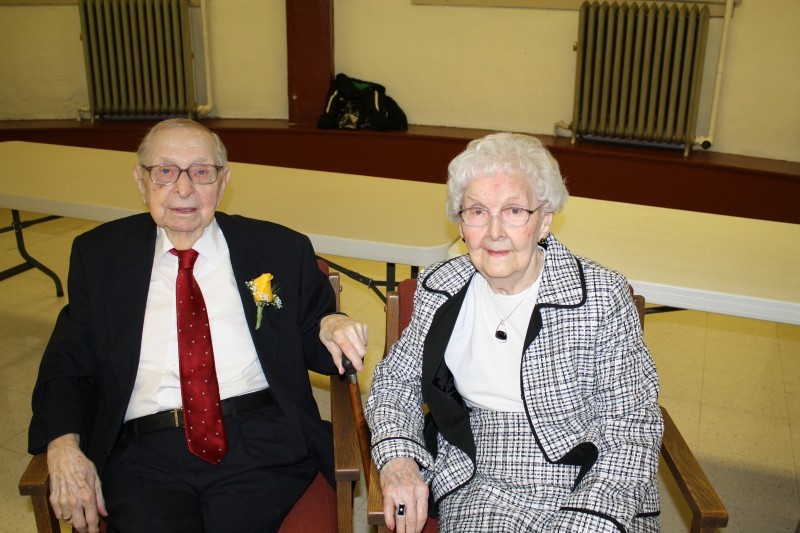 They met in New Jersey in the early 1940s. Harry was a young church organist from an affluent family, while Sara was a city girl who didn't have much. Although he lived 20 miles out of the city, nothing could keep them apart, not even the Great Depression.
"Uncle Harry decided he really liked her, so he courted her," said the couple's niece, Sara Gault. "During the Depression, he always had a car because his dad had the oldest Pontiac dealership in New Jersey, so that made him kind of 'hot' with the girls."
On his trips into the city, Gault said, Harry would bring fresh vegetables from his family's garden to "win over Sara's mother."
Their budding romance continued to blossom, and when Harry moved to Hutchinson, Kansas, in 1945 to serve as the music director at First United Methodist Church, Sara boarded a train to join him. The couple married on November 9, 1945. Gault said the two were crazy about each other.
"Uncle Harry doted on Aunt Sara, to the point that normal people would probably wonder what was wrong with him," she laughed. "They had a very good relationship. They lived for each other."
After two years of marriage, Harry accepted a position teaching music at Kansas Wesleyan University, so the Hubers moved to Salina, a place they would call home for the rest of their lives.
"They really liked Salina, because they felt like it was progressive for a town in the middle of Kansas, with the arts and all the different things it had," Gault said. "They took advantage of a lot of opportunities here."
Harry spent the next 32 years teaching music at Kansas Wesleyan, where, upon his retirement in 1979, he was named Emeritus Professor of Music and awarded an honorary Doctorate of Music.
"Uncle Harry could have done a lot of things, but he really liked Kansas Wesleyan. He really enjoyed being with the students," Gault said. "He enjoyed studying with all the people he studied with and enjoyed sharing his love of music with other people."
Sara was also employed at the university, serving as an administrative assistant for 36 years. Additionally, she would put together countless receptions for Harry's music students.
"She was the support system for him. She kept him grounded," said Gault. "Aunt Sara was just a really good person. She loved her job and she was really good at it. She was very bright."
While they never had any children of their own, the Hubers touched countless lives.
"A lot of Harry's students kept in touch with him, and a lot of them came to his funeral," Gault said.
During their lifetimes, the Hubers selflessly devoted themselves to many causes, investing both time and money where they felt they could make a difference. Harry played the organ at University United Methodist Church for 58 years and was a 33rd Degree Mason. Sara was active in many auxiliaries and volunteered at the hospital for years.
"Whether it was kids, the university, the hospital, animals, the church, they supported any fundraiser that came about to improve the community," said Gault. "They felt very blessed to be in a situation, where, financially, they could do that."
The Hubers truly cared about the future of the community, as well. When the Greater Salina Community Foundation started in 1999, Harry and Sara took note and made a founding gift of $25,000 to the foundation's administrative endowment. They also left another $25,000 gift to the the foundation in their estate plan.
"They thought the foundation had a good goal. They wanted anything that would improve the quality of life in Salina and help other people," said Gault. "In the end, they left money to this foundation, to the church, and to several others that they felt like they could help."
Gault also said her aunt and uncle "never wanted to do anything for notoriety. They did a lot that no one ever knew about."
Harry passed away on January 13, 2017, just days shy of his 103rd birthday. Sara died nine months later on September 12, at age 99. Harry and Sara spent the last of their 71 years together in a nursing home, and they always kissed each other good night.
"They were very dedicated people," she said. "They were dedicated to each other, dedicated to Kansas Wesleyan, and they were dedicated to the city of Salina. They truly wanted Salina to be all that it could be, in every area. They wanted everything to be good."